Catalog
Sharon bought the property next door to her and we are busy working on making the new area ready for our next kidding season.
Cookie, Blessing, Raven and Reba like their new stall.
Click on any of the pictures to follow the link to Acres of Plain Vision to see all of the equipment they have available.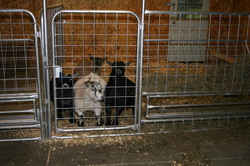 Built in hay racks and feeders that can be used on the inside or outside of the stall thanks to a fold down panel in the fence.