SOME OF OUR WINNERS
Some of the goats we bred shown winning with their new owners
Jordan with Woodclyf Axl and Woodclyf Slash
Axl and Slash went first and second in their class, wethers between 1 and 2 years. Then Axl won Grand Champion Pygmy Wether! All of this excitement happened at the 2013 Hartford Fair! CONGRATULATIONS JORDAN!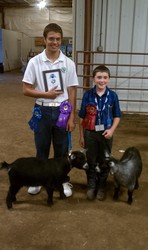 Briana with Woodclyf Steve (AKA Bandit)
Also at the Hartford Fair, Briana won first place and Junior Champion Wether then went on to Reserve Grand Champion wether! CONGRATULATIONS BRIANA!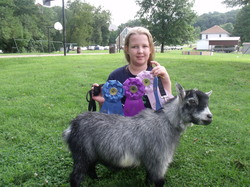 Faith and Savannah plus brother Wyatt had a great day at the Allen County Fair goat show! They had Grand and Reserve Grand Champion, their juniors placed 1-2-3 in their class, senior does were 1-2-3 and both girls placed second in large showmanship classes! Plus they were number one in the dam and daughter class.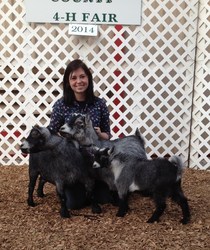 Brittany with her herd at the fair.
Faith won Grand Champion Pygmy Doe with Woodclyf Joan Jett at the 2016 Allen County Fair. She also won first in her class with Woodclyf Brienne.